Those who constantly wears long hair, always difficult to decide on changes to the exterior. If your hair beautiful, healthy, natural Shine and do not create difficulties during the installation, they do not want to cut or in any way interfere in length by tapering the ends or graduation in the field of facial contours. To transform, it is enough to choose the right options for bangs for long hair that will allow you to do different styling according to the latest fashion trends and the shape of the face.
Straight bangs to the eyebrows
Straight bangs to eyebrows will suit the majority of girls with different types of people, because it can be styled in many ways.
Alyssa Milano
Bella Thorne
Lea Michelle
Alyssa Milano showed elegant fashion way with a long elongated flat iron hair and a long smooth bangs. It is always a successful styling for those who want to demonstrate the beauty of their hair. Redhead Bella Thorne combined straight bangs to eyebrows long graduated haircut steps, where breakage of the strands starts just below chin level. On this basis it is easy to create, the styling with voluminous curls or large waves. They, in turn, chose Lea Michele, which by nature has dark brown hair dense structure. Her disheveled styling looks very dynamic and bangs fits in this style.
Short straight bangs
Short bangs with long hair need to be addressed, and this will help to make the fashionable girls who are not shy of bold images.
Christer Ritter
Katy Perry
Christer Ritter is an example of the Actresses who rarely change their images, and she wears her long black hair with short bangs for many years, because she fits this style. Similar style with the same color hair chooses from time to time the singer Katy Perry, who are not indifferent to the style of pin-up, whose incarnation is the image of the short bangs on long hair. It should be noted that with dark hair, this style looks much benefit, but if you have the opportunity to wear red lipstick – certainly do it in conjunction with this hairstyle.
Long side-swept bangs
Long side-swept bangs haircut long hair – another basic option for all occasions, because the style the haircut can be a variety of ways.
Maria Menounos
Monica Cruz
Emma Stone
If you are delighted with the soft feminine images, take the example of TV presenter Maria Menounos. Her long haircut layers combined with long bangs, stacked on one side, which are perfect for easing damn lower face. Actress Monica Cruz has long thick hair, and can afford the ragged texture of the haircut. One of them is a long graduated haircut in combination with the thick long side bangs. Emma stone wears a variety of bangs, but most often they are oblique, so as the actress round face. Her long bangs with wavy hair how to easily hide in her hair, and release on the forehead, in whole or in part closing.
Semicircle bangs
Today is rather a symbolic name, because the first image is more and more modified. The essence remains the same, this bangs cut along the contour is not straight, but curved, and the bangs shorter in the middle than on the sides. These bangs are still done thick and descend directly into the eye. The most advantageous they look on dark chestnut and black hair, and long straight smooth hair bangs this is one of the rare stylish solution that does not violate a single image, but makes a note of novelty.
Sandra Bullock
Camilla Belle
Andrea Diaconu
Good examples of hairstyles with long hair and a thick, rounded bangs in the eyes are Sandra bullock with bulk stacking, Camilla Belle with a smooth shining hair, supermodel Andreea Diaconu with a tousled styling with graduated semi-circular Bang.
Rare or ragged bangs
Rare or ragged bangs allows you to add new features in the hairstyle, but the difference with styles with thick bangs, she is not as demanding, not hanging over the face, there is no great difficulty in packing and very adaptive. Air direct or oblique long bangs with long hair suitable for all hair types, but for oily hair should think whether you will be able to maintain the neat look of bangs, which can slide in icicles.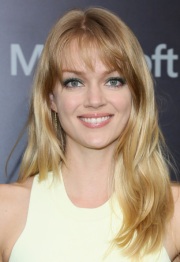 Lindsey Ellingson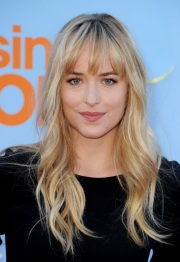 Dakota Johnson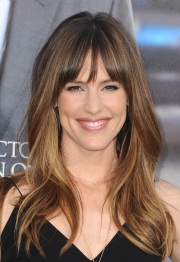 Jennifer Garner
Examples of rare ragged bangs with long hair are such stars as Lindsey Ellingson, Dakota Johnson, Jennifer garner. They successfully combine different hair colors, straight, ironed flat iron or curled in ringlets, with sloppy ragged bangs.