Short hair is always in fashion. And maybe you'll be surprised, but there are many options when styling short hair at home will be just gorgeous.
Views styling short hair
Wash your hair. Dry them with a towel, but not until the end, they should be slightly moist. Using the comb, make a side parting. Apply on hair a small amount of smoothing cream. Align the hair with a hair dryer and a comb or hair iron. If you have short bangs, let it freely fall to the forehead. If long – then lay it at an angle. If you want to fix the styling hairspray.
You can make small changes to the previous version installation. On damp hair, apply some mousse. Make a side parting and allow the hair to dry. On the tips of your fingers apply a small amount of gel to dry hair and comb with your fingers, giving hair volume and style.
Wash your hair and towel dry. Make a side parting or in the middle. Apply a little mousse to hair and spread it evenly. Dry your hair with a hair dryer and brush with a soft bristle brush, slightly twisting strands around the brush to create volume. Can use flat iron to flatten and curl flyaways. For extra volume, apply some hair spray or a light mousse.
Why not experiment with laying in a "Mohawk". Wash and dry hair, make a parting in the middle. Using a Curling iron with a diameter of 2.5 cm curl a few strands to choose from. All hair should be directed upwards. Apply a strong hold gel or mousse. Then put curly hair upward and toward the center of the head. Fingertips lightly pull out a few curls so they fell over his forehead.
Wash your hair. Dry them with a towel to keep them moist. Apply the gel on your hand, then swipe a hand through his hair when you blow-dry the hair. Lay bangs and hair back. Once the hair is dry, apply some more gel for optimal fixation.
On damp hair apply some modeling mousse. Dry your hair with Hairdryer and use your fingers usherette hair in the backward direction. When you put your hair back, straighten the bangs with a brush as much as possible. Dry bangs, directing a jet of air down. Once hair is dry, use mousse or a strong hold gel to highlight the tips of the bangs.
Dry your hair with a towel. Spray hair lacquer. Dry them with a hair dryer and brush with a soft bristle brush. During the hair styling curls curl in the same direction. On dry hair, apply sculpting cream to highlight the curls of the bangs and the curls on the sides. The rest of the hair comb her behind the ears. Instead of a dryer and comb you can use the Styler with a diameter of 2.5 cm.
Styling for a party
First of all, highlight clips those strands that you are going to model. On the left side, start with the short hair, braiding them into cornrows. Secure with tape and curl the tips with a comb. On top of the head give the hair volume with a comb. Spray some hairspray and fix the styling with the help of small clips. On the upper part of the forehead of wear the elastic bandage. Can use false hair if you want hair was longer. At the end slightly necesite hair comb.
Short hair with accessories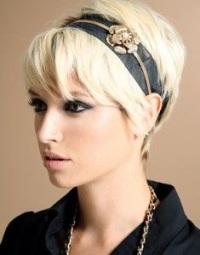 Styling short hair can use different accessories. For example, for an elegant and refined image is the best fit thin headband with small ornaments. Thin headband with sequins and rhinestones will make your hair vivid. Simple broad bandage give the image of ease. If you have opted for a wide headband with cute patterns or a small amount of jewelry, you will look like a mischievous and playful girl.
For a classic look perfect shawl. Fold it several times or twist so as to obtain a thin headband. Tie the handkerchief around the head so that it passed on the top of the head, not forehead.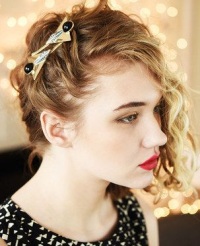 In addition to bandages and handkerchiefs Supplement stacking can serve different clips and barrettes with adornments, for example, with knots, flowers, sequins or rhinestones.
Try to do their own packing, using as an accessory a wreath of leaves. You can ask the help of mother or friend. Spray on the hair styling spray with protection against moisture. Dry your hair with a hair dryer, giving them directions. Wear the accessory. Beat the eggs lightly hair to give them volume. Spray hairspray. With the studs lay of the strand in its sole discretion.
Excellent accessories for women with short hair are hats. Type of headdress depends on the shape of the face. Before you open a great choice: beret, boater, canvas hat, baseball cap, hat-bell and soft felt hat.