Shape bangs for long hair variety, and you need to choose the style that will be able to pacify the flaws of your face and perfectly complement your personality. Someone will like bangs with sharp lines, a clear asymmetric cuts, others prefer soft feminine lines bangs which fall to one side and complement long wavelength. In any case, the hair style must be suitable for you type of person, so when you decide to cut bangs on long hair, don't forget about this feature as fundamental when choosing a future hair style.
The basic rules when choosing shaped bangs
Thick hair dense structure should be thinned to the bangs turned out natural and dynamic, and not looked "wooden". For oily hair are not recommended rare bangs, this is even more true blondes bangs will zaselyatsya very quickly, and the image will become untidy.
If you have small, deep-set eyes, avoid heavy bangs that come down to the eyes, such options are only suitable eyed girls or those who in everyday life is a bold makeover. Do not abuse tapering bangs, if you have thin hair because it will look lifeless.
Sharp facial features need to soften, smooth rounded lines bangs and soft waves on long hair. The bangs and the total weight of the hair should be laid in the same style. If you made a tight vertical curls, sharp asymmetric diagonal bangs can look disharmonious.
To find the right shape bangs for long hair, look at the examples of famous women who adore the bangs are different and their variants.
Long smooth straight bangs
This bangs is very popular for several years, her strive to do many of the girls who want to diversify their style, but this hairstyle is not for everyone. Not worth doing such a Bang with a chubby face, heavy lower jaw, double chin, forehead when should be open and it is desirable to give volume to the top of the head.
Jessica Biel
Liv Tyler
Wear straight smooth bangs. If you have a prominent forehead, long narrow face, pointed chin and wide cheekbones. Examples for inspiration images – Liv Tyler, whom the bangs visually hides the nose length, Jessica Biel, which looks adorable with thick straight bangs in eyes and long dark hair, outstretched pad.
Asymmetrical bangs
Asymmetrical bangs visually elongates your face, which is necessary for square and round faces. In combination with the long hair, combed flat with the "smoothing" and slightly curled in waves, so the bangs creates a feminine romantic image which is suitable for young girls.
Olivia Wilde
Amber Thiessen
Olivia Wilde, the owner of square shaped faces with sharp cheekbones and a narrow almond-shaped eyes, so bangs combined with long stranded hair really suits her. Tiffany amber Thiessen face wide, with full cheeks and a sharp prominent chin, and to the hairstyle from long hair to her well chosen asymmetrical bangs that partially covers the forehead, but not closing it completely, "pressing" the person at the top. From Lynn Shelton thick long side bangs softens his features and combines well with curled ringlets.
Long side-swept bangs
Long side-swept bangs to one side so versatile, you can adapt it to different hairstyles with long hair. If necessary, she climbs behind the ears and stabs invisible. This bangs pulls a face, creating a volume to hairstyles and can be worn with any data.
Demi Lovato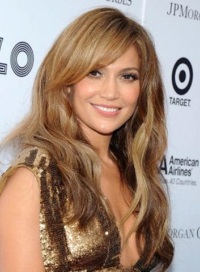 Jennifer Lopez
Demi Lovato round face, so this long bangs with long cascading hair suits her much more than straight bangs to eyebrows. Jennifer Lopez almost does not change its luxury style long loose hair and long bangs that partially closing the forehead.
Short thick bangs
Short thick bangs can be straight or profiled toothed. Whatever style you choose, it looks bold, especially with long hair. If a short haircut , it suits the style, but long hair it supplements, becoming catchy "highlight". Wearing this kind of bangs, if you have enough thick hair, length of hair, it is recommended not to leave the uniform.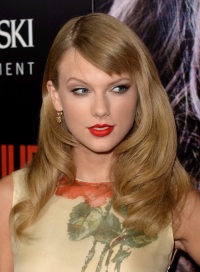 Taylor Swift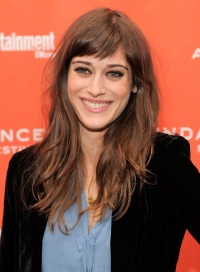 Lizzy Caplan
Taylor swift showed how it's possible to wear these bangs in old-fashioned way with natural blonde, Lizzy Caplan chose free French style, without changing his short bangs, which she wears with any length of hair.
Rare bangs
If you want to make classic bangs to the eyebrows or elongated asymmetrical, but your face shape does not allow you to venture into the thick shape of the bangs, make it rare. Rare bangs looks like a lighter version of a thick in all senses – it is not as demanding on the rest of your image, attracts attention to the eyes and eyebrows, not hanging over the face and it does not weigh down.
Wear rare bangs of different lengths, you should push your her side, down to the eyebrows with long hair she looks like a stylish addition image of any person.