Hairstyles in retro style never goes out of fashion and will always come in handy for formal and informal events. In addition, these hairstyles very much, you have a wide choice. Vintage hairstyles are very popular among the stars, so check out the ten best hairstyles in retro style that loved by celebrities.
Even if some of these hairstyles may seem complicated, do not worry, with a little practice they will be actually quite simple. If you plan to attend any formal event or you just need to spice up your usual style, be ready for a change in its image in the direction of femininity.
Free retro hairstyle Amy Adams
In February 2015, Amy Adams was spotted at the Oscar party with one of the most simple yet the most elegant and, of course, the eternal retro hairstyle. This is a classic free hairstyle with a stylish front waves and side parting. She almost looks like a fake Bob, and that may be the best option for those who really would like to wear a medium length asymmetrical Bob, but too afraid actually to get a haircut. If you like the style of the "roaring twenties", you should try to do this hairstyle by using a special rim, as if you were the heroine of the novel by F. S. Fitzgerald.
Amy Adams
Emmy Rossum
Waves Emmy Rossum
You can consider this hairstyle as the natural evolution of the previous one. And you can also consider using a lot of styling gel so that your hair stays in place, but you definitely won't regret about the result. This elegant hairstyle and it is especially perfect if you have short hair (or even pixie haircut). It involves several complex lateral wave, which mainly creates this degree of glamour. These hairstyles are mainly designed for wearing with a pair of dangling earrings or precious hairpin from one side of the head.
Cushions Rosie Huntington-Whiteley
A few days ago, model and actress Rosie Huntington-whitely has been spotted with a chic hairstyle with rollers, once again proving his passion for retro. Cushions and the waves were very common in previous decades (particularly in the 50-s and 60-ies) and are the perfect way to remove hair from the face. This type of hairstyle requires at least several minutes in front of the mirror, and it's probably not the best choice if you are in a hurry. However, if you have enough time (and patience), the result is very nice. At the same time, if you lack modeling skills, you can use elastic tape, just put on the hair around the head. Don't forget hair clips to hair clung in her hair.
Rosie Huntington-Whiteley
BisI Philipps
Textured hairstyle BisI Philipps
This formal hairstyle with waves is mainly suitable for any type of hair, and it looks amazing especially if you try to brighten your own bangs. If you have short hair, you just have to lay them with the help of hairspray and a few Bobby pins, so that the effect of disorder is not ended in complete disaster. On the other hand, if you have medium length hair, you could finish the image of the free twisted dulcey, which is the best salvation for hair in not the best shape.
Retro hairstyle Ulyana Sergeenko with waves
Another example of a retro hairstyle with waves which will look amazing at any formal event. And this is another hassle-free method of getting bangs, since a shorter front strands fit perfectly into the rest of long hair. You can also follow in the footsteps of her coach and choose natural makeupthat is actually quite fashionable this year.
Ulyana Sergeenko
Jessica Stam
Twisted hair Jessica Stam
This is probably the most sensual of all hairstyle retro hairstyles. You just need a lot of pins, a lot of patience and maybe a little hairspray if your hair is curly. Make oblique parting at just above ear level. Then gently twist side hair into a tight bun. You can connect this image with the simple eyeliner cat-eye and bright red lipstick. You can also try to finish the Shine to the hair.
Side hairstyle La La Anthony
This is a side version of the previous image with the beam (no lateral bending) may be more attractive to those who don't especially like to put on hair gel. It is definitely one of the most romantic retro hair styles, and she doesn't even require special modeling skills. Being quite universal, it can be created for daytime activities, and evening. At the same time, it looks perfect as catchy and with natural makeup.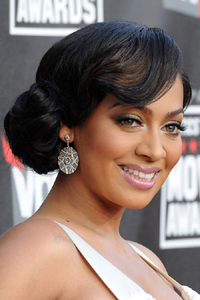 La La Anthony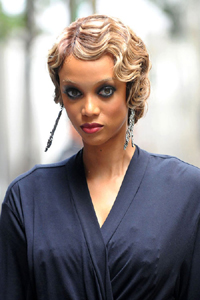 Tyra Banks
Tyra banks and her style of flaperon
Tyra banks looks good with hair of any type. It can be seen in the image of classic 20's- expressive waves, which, of course, require some time and patience. Although the use of Curling irons is undoubtedly the simplest solution to achieve that image, you could also try the good old method: the process involves the clamping of small strands of hair between your fingers and putting waves in variable directions until you get the desired shape hairstyle. Of course, you will have to pour on tons of hair lacquer to fix the hairstyle. This method works best for medium length hair, hairstyle absolutely perfect with dramatic Smokey eyes.
Pinned curls Taylor swift
If you are looking for more natural and simple style retro updo, pinned up ringlets Taylor swift may be the best option for you. This hairstyle designed for naturally curly or curly hair, and she's perfect for you, if you want to try a new hairstyle, not torturing their hair by heat treatment. Curls that descend in a cascade down one or both sides of the head, immediately will give you the chic in boho style and charm that is absolutely perfect for a night out with friends. You could finish this image of small flowers for a more hippy type or dramatic makeup for a more glamorous rock style.
Taylor Swift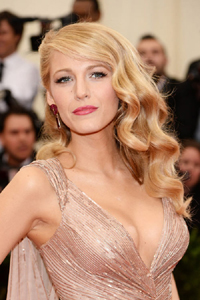 Blake Lively
Side hairstyle Blake lively in the style of old Hollywood
Who says you can't do long hairstyle with wavy hair? Last year the actress Blake lively showed sensual hairstyle that takes no more than five to ten minutes.
To get this image, you just need to create a long side parting, slightly curled hair and pin them to the side. You can wear this hairstyle basically for any occasion and fun to always combine it with different makeup.